The Simon Powell Poetry Prize 2018
The ten winners of the Simon Powell Poetry Prize have now been informed. Congratulations to the winners. If we haven't been in touch, it means you didn't make it this year. But please carry on writing!
Here is what our judge, Daljit Nagra said about this year's competition:
"Another outstanding year of moonlit dreaminess and wide-eyed challenge from our verbally dexterous and formally sophisticated young poets. For many of the entrants this will have been their first time at stumping up the courage to try their hands in a national competition. To be a winner is a great achievement and hopefully one that puts the horse's speed into the poetic endeavours of our top ten. Many winners of the competition have gone on to enter other competitions, to pursue poetry writing at universities and have then gone on to become exciting new names in the adult world of poetry, or have simply continued to enjoy writing poetry for pleasure. I wish our winners every happiness that poetry can afford."
Best wishes,
Daniel Powell
Director, Poetry Live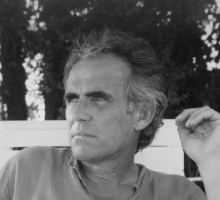 Simon Powell was always a great champion of new poetry. We run this competition as a tribute to his commitment to poetry and to his encouragement of young people to start writing.