The Simon Powell Poetry Prize 2020
The ten winners of the Simon Powell Poetry Prize have now been informed today (Thursday 11th June 2020).
Congratulations to the winners. If we haven't been in touch, it means you didn't make it this year. But please carry on writing!
Here is what our judge, Daljit Nagra said about this year's competition:
"This year's outstanding submission of poems showed young poets writing passionate verse that looks serious issues in the face with rage, frustration, dignity and mischief.
This year's entries may be exceptional because most of the poems would have been written during an unusual moment in modern history, a global lockdown caused by a virus; several poems address the feelings of this uncertainty, of the privation that this has caused."
Once again, well and thank you to everyone who entered.
Best wishes,
Daniel Powell
Director, Poetry Live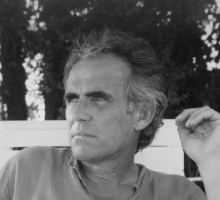 Simon Powell was always a great champion of new poetry. We run this competition as a tribute to his commitment to poetry and to his encouragement of young people to start writing.